National Technology Day 2017:'Technology enablers of Startup India'
National Technology Day 2017:'Technology enablers of Startup India'
Date: May 11, 2017
DST India Science & technology
Since 1999, May 11 is celebrated as National Technology Day to mark India's technological advancements. President Pranab Mukherjee will be attending the National Technology Day celebrations in New Delhi this year, along with the Union Minister for Science and Technology Dr Harsh Vardhan.
National Technology Day is celebrated every year on May 11 to mark Indian technological advancement. The day, May 11, was declared National Technology Day by the Indian Government in order to commemorate the history of India's technological capability and expertise.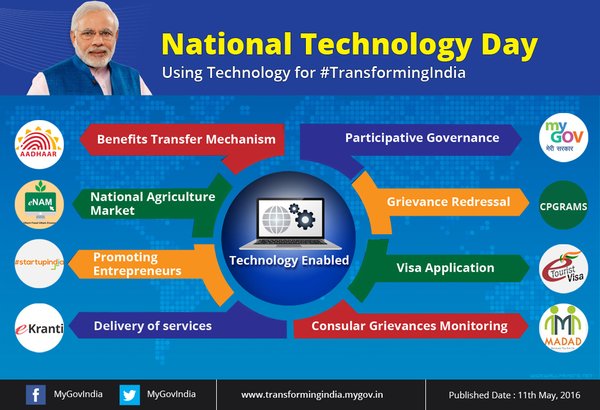 This day holds importance of its own as on this particular day India achieved a huge technological progression.India had also tested its first indigenous aircraft 'Hansa-3' on this day. After testing Hansa-3, India had performed successful test firing of the Trishul missile and had also executed three successful nuclear tests, carried out at Pokhran, in Rajasthan.On May 11, 1998, India tested 5 nuclear powered bombs in Pokhran, Rajasthan, to exhibit its defence skills. This is regarded as one of the significant moments in Indian history
The theme for this year's Technology Day is 'Technology enablers of Startup India'.