PM's visit to Mauritius
PM's visit to Mauritius
Date: March 12, 2015
Mauritius- India sea route defense.communication
India and Mauritius ink five MoUs to boost bilateral co-operation
India and Mauritius have signed five agreements during Prime Minister Narendra Modi's visit to the country. India and Mauritius have inked 5 Memoranda of Understanding (MoU) to give new impetus to bilateral co-operation.These MoUs were signed in Port Luis, Mauritius.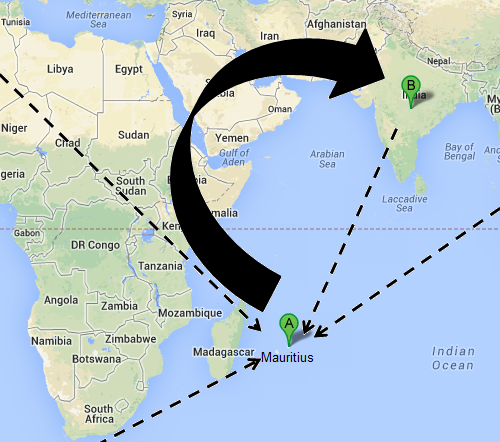 Following MoUs were signed
1- MoU in the field of Ocean Economy-to provide an extensive framework for cooperation in the field of Ocean Economy between two countries for sustainable development in the Indian Ocean Region.It includes mutually beneficial cooperation for exploration and capacity development in the field of marine resources, green tourism, fisheries, research and development of ocean technology, exchange of experts and other related activities.
2- Programme for Cultural Cooperation between both nations for the year 2015-18- to provide enhanced bilateral cooperation between both nations in this field for the term 2015-2018. It will enhance people-to-people participation between the two countriesThe programme envisages exchange of cultural troupes, organization of cultural exhibitions, preservation of cultural heritage, training in fine arts, promotion of Indian languages, exchange of students, etc.
3- Protocol between both countries for the importation of fresh mango from India- The aim of this Protocol is to facilitate Mauritius with importation of world-renowned Indian mangoes. This protocol is between India's Union Department of Agriculture and Cooperation and Ministry of Agro-Industry and Food Security of Mauritius.
4-MoU for the Improvement in Air and Sea Transportation Facilities at Agalega Island of Mauritius- It have provisions for setting up and upgradation of infrastructure for improving sea and air connectivity at Agalega Island of Mauritius and Outer Island. These facilities will help to enhance the capabilities in safeguarding interests of the Mauritian Defence Forces in the Outer Island.
5- MoU on Cooperation in the field of Traditional System of Medicine and Homeopathy- It will promote cooperation in the field of traditional system of health and medicine between the both countries.
It envisages exchange of experts, joint R&D and recognition of the traditional systems of health and medicine, supply of traditional medicinal substances, in both countries.
It also aims to promote and popularization of the various Indian traditional systems of AYUSH.
The Government of India has also agreed to provide naval infrastructure support to Mauritius under maritime security cooperation.In this regard, the Indian Government has commissioned India's first-ever export warship-Barracuda to Mauritius, on March 12, 2015.Besides this, the Indian government has already cleared exports of 13 other warships to Mauritius and these are expected to be supplied in the coming year.