Paris Climate Agreement 2015:Major points and India's take
Paris Climate Agreement 2015:Major points and India's take
Date: December 14, 2015
India Paris Canada
The 2015 United Nations Climate Change Conference, COP 21 or CMP 11 was held in Paris, France, from 30 November to 12 December 2015. It was the 21st yearly session of the Conference of the Parties to the 1992 United Nations Framework Convention on Climate Change (UNFCCC) and the 11th session of the Meeting of the Parties to the 1997 Kyoto Protocol.
Major Points of Agreement:-
1. Limit temperature rise 'well below' 2 C
The agreement includes a commitment to keep the rise in global temperatures "well below" 2 C compared to pre-industrial times, while striving to limit them even more, to 1.5 degrees.
Scientists consider 2 C the threshold to limit potentially catastrophic climate change.
2. First universal climate agreement
It's the world's first comprehensive climate agreement, with all countries expected to pitch in.
The previous emissions treaty, the 1997 Kyoto Protocol, only included rich countries.​ Canada signed on to Kyoto, but later backed out in 2011.
3. Helping poorer nations
The deal also calls on developed nations to give $100 billion annually to developing countries by 2020. This would help these poorer countries combat climate change and foster greener economies.
The agreement promotes universal access to sustainable energy in developing countries, particularly in Africa. It says this can be accomplished through greater use of renewable energy.
4. Publishing greenhouse gas reduction targets
Countries will be tasked with preparing, maintaining and publishing their own greenhouse gas reduction targets. The agreement says these targets should be greater than the current ones and "reflect [the] highest possible amibition."
These targets will be reviewed and revised every five years starting in 2023.
The agreement also says that each country should strive to drive down their carbon output "as soon as possible."
5. Carbon neutral by 2050
The deal sets the goal of a carbon-neutral world sometime after 2050 but before 2100.
This means a commitment to limiting the amount of greenhouse gases emitted by human activity to the levels that trees, soil and oceans can absorb naturally. Scientists believe the world will have to stop emitting greenhouse gases altogether in the next half-century in order to achieve this goal.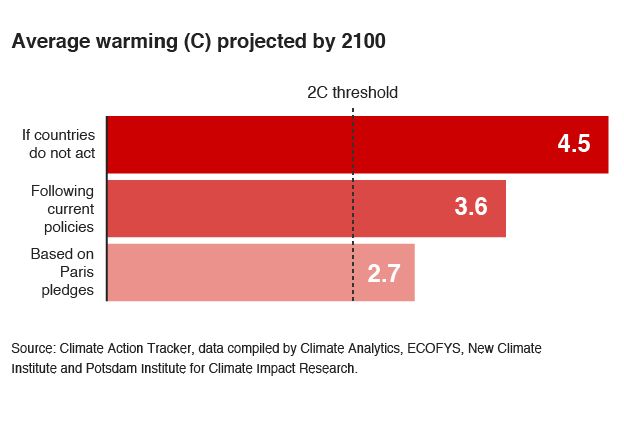 India's Prespective:Wins and Losses
The wins
Differentiation between developed and developing world while reducing emissions
No forcible ratcheting up of emission targets periodically
India does not have to compulsorily provide climate finance
No peaking of emissions before other countries
Removing reference to decarbonisation of economies against fixed deadlines
The Paris pact not entirely centred on mitigation, but it lays substantial stress on other elements such as finance, adaptation, loss & damage
The losses
Transparency mechanism brings equivalence between developed and developing countries through the 'back door'. Global financial flows for thermal power in India will shrink with time

Climate justice is a lame-duck idea in the pact. Carbon budget concept fails to find place; no reference to reducing cost of IPRs