ONAM: Festival of the state of Kerala
ONAM: Festival of the state of Kerala
Date: September 14, 2016
Kollavarsham King Mahabali
Onam is the biggest and the most important festival of the state of Kerala. It is a harvest festival and is celebrated with joy and enthusiasm all over the state by people of all communities. According to a popular legend, the festival is celebrated to welcome King Mahabali, whose spirit is said to visit Kerala at the time of Onam.
Onam is celebrated in the beginning of the month of Chingam, the first month of Malayalam Calendar (Kollavarsham). This corresponds with the month of August-September according to Gregorian Calendar.
Carnival of Onam lasts from four to ten days. First day, Atham and tenth day, Thiruonam are most important of all. Popularity and presentation of rich culture of the state during the carnival made Onam the National Festival of Kerala in 1961. Elaborate feasts, folk songs, elegant dances, energetic games, elephants, boats and flowers all are a part of the dynamic festival called Onam.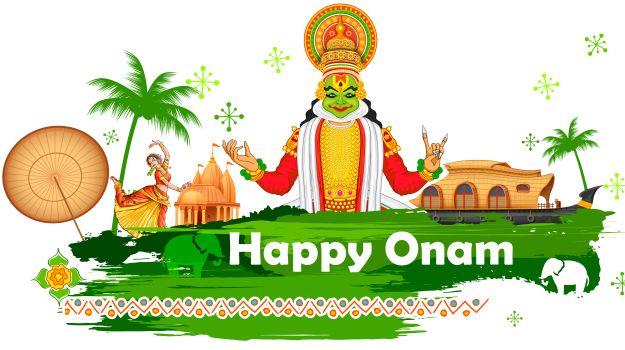 The word 'Onam' refers to the rice harvest in Kerala. One of the most enthralling tradition of the Onam celebration is Vallamkali, the snake boat race. Dressed boats are oared by hundreds of boatmen over the river Pampa. These snake boats are called 'Chundans'. Men also compete in rigorous sports like Ambeyyal (archery) and Attakalam (combats) as a part of the tradition. Homes are adorned with exquisite flower carpets called 'Pookalam'. People also apply rice flour batter on the main entrance of their homes as a welcoming gesture. The cities brim with fabulous fireworks turning the state into an absolute paradise.