1st Silk Road train arrives in Tehran from China
1st Silk Road train arrives in Tehran from China
Date: February 17, 2016
Tehran Kazakstan and Turkmenistan
The first Silk Road train arrives in Tehran to connect China and Iran arrived in Tehran.The train is carrying 32 containers of commercial products from eastern Zhejiang province.The track is completed in 14 days.
The first Silk Road train has completed a journey of 9,500-kilometre (5,900-mile) from Kazakstan and Turkmenistan.The train revitalization the ancient Silk Road and gives impulsion to China's ambitious One Belt One Road (OBOR) initiative.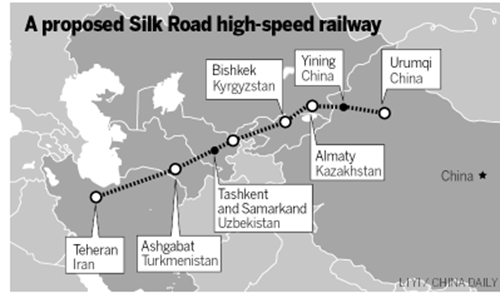 It also will boost to bilateral trade between both countries after they had agreed to build economic ties worth up to 600 billion dollars within the next 10 years. Currently, China is Iran's biggest trading partner and accounts for its one third of foreign trade. China is also top customer for oil exports from Iran.
The Silk Road:-
The Silk Road is an ancient network of trade routes.It is central to cultural interaction through regions of the Asian continent connecting the West and East from China to the Mediterranean Sea.The Silk Road receives its name from the productive trade in Chinese silk carried out along its length during the Han dynasty (207 BCE – 220 CE).
Trade on the Silk Road was a significant factor in the development of the civilizations of China.The Indian subcontinent, Persia, Europe, the Horn of Africa and Arabia, opening long-distance, political and economic relations between the civilizations.
The Silk Road is served as a means of carrying out cultural trade among the civilizations along its network.
The revived Silk Road is envisioned as a rail and sea route as part of China's ambitious OBOR economic development strategy.