Prithvi-II missile succesfully testfired
Prithvi-II missile succesfully testfired
Date: February 19, 2015
Prithvi-II Dhanush Indian Navy
India successfully test-fires Nuclear capable Prithvi-II missile at Chandipur in Odisha
India successfully test-fired its indigenously developed nuclear capable Prithvi-II surface-to-surface missile for a shortened range of 250 km as against its full range of 350 km as part of a user trial by the army from a test range at Chandipur in Odisha.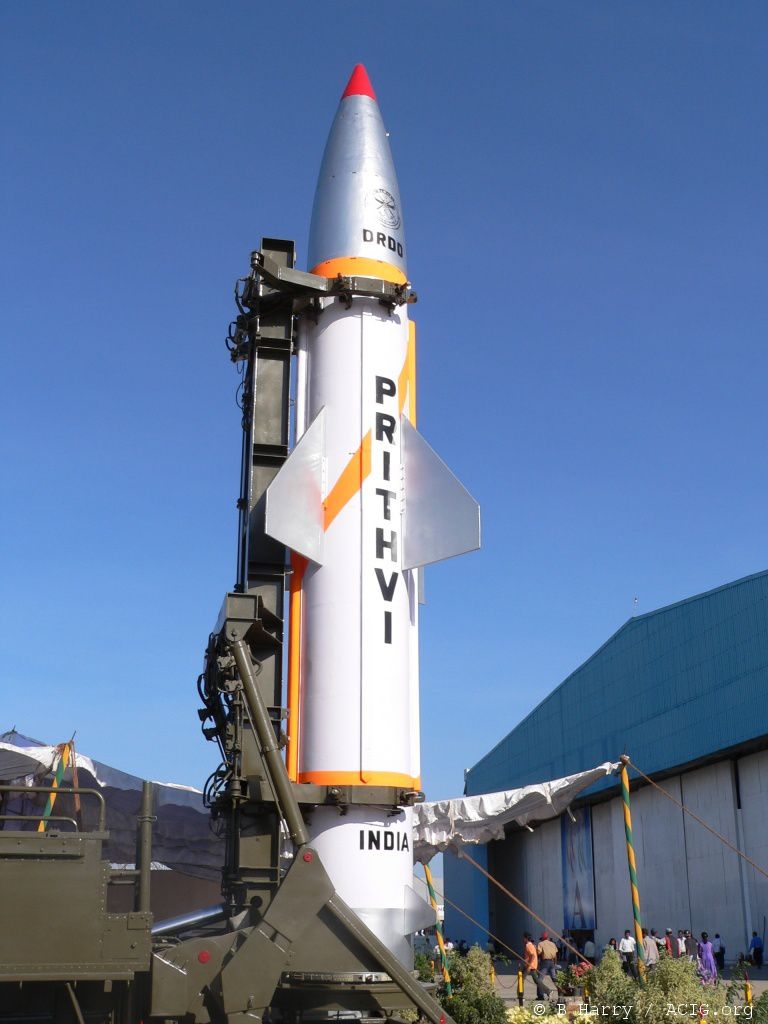 The missile was launched by Strategic Forces Command (SFC) from a road mobile launcher at around 9.15 am. The missile after nearly seven minutes splashed down near the pre-designated target point in the Bay of Bengal with a high degree of accuracy. It was carrying a dummy payload weighing 500 kg, the missile met all the mission objectives.
Prithvi II is the first missile to be developed by DRDO under India's prestigious IGMDP (Integrated Guided Missile Development Program).
About Prithvi-
Prithvi is a surface-to-surface short-range ballistic missile (SRBM) developed by DRDO of India under the Integrated Guided Missile Development Program. It is deployed by India's Strategic Forces Command. The Prithvi missile project encompassed developing 3 variants, i.e.
Prithvi I (SS-150) - Army Version (150 km range with a payload of 1,000 kg)
Prithvi II (SS-250) - Air Force Version (250 km range with a payload of 500 kg)
Prithvi III (SS-350) - Naval Version (350 km range with a payload of 1000 kg)
Dhanush- Dhanush is reportedly a naval version of Prithvi which can be launched from ships.