Van Dhan Scheme
Van Dhan Scheme
Date: July 02, 2019
tribal development tribal products
The Van Dhan Scheme is an initiative of the Ministry of Tribal Affairs and TRIFED.The scheme will be implemented through Ministry of Tribal Affairs as Nodal Department at the Central Level and TRIFED as Nodal Agency at the National Level. At State level, the State Nodal Agency for MFPs and the District collectors are envisaged to play a pivot role in scheme implementation at grassroot level. Locally the Kendras are proposed to be managed by a Managing Committee (an SHG) consisting of representatives of Van Dhan SHGs in the cluster.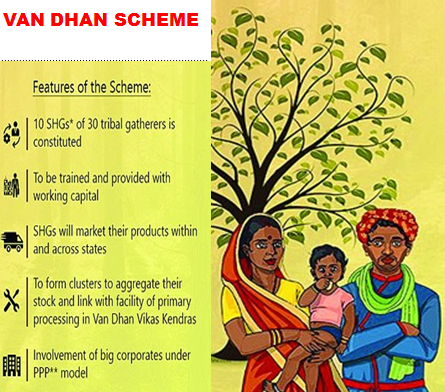 Key Highlights-
1-At unit level, aggregation of produce would be done by SHGs having about 30 members each forming Van Dhan Vikas 'Samuh'. The SHGs would also undertake primary value addition of the MFPs using equipment such as small cutting and sieving tools, decorticator, dryer, packaging tool etc based on MFPs available in the area.
2-A typical Van Dhan Vikas Samuh would have the following facilities:
a-Provision for required building/ infrastructure support to be established in one of the beneficiary's house/ part of house or Government/ gram panchayat building
b-Equipment/ Tool Kit comprising of equipment such as small cutting and sieving tools, decorticator, dryer, packaging tool etc. based on MFPs available in the area
c-Fully equipped training facilities for a batch of 30 trainees with provision for raw material for training purpose and supply of trainee kits (comprising of bag, scribbing pad, pen, brochures, training manual, booklet etc)
d-Provisioning of working capital for the SHGs through tie up with financial institutions, banks, NSTFDC etc
3-A cluster of ten such SHGs within the same village shall form a Van Dhan Vikas Kendra. Subject to successful operations of the samuhs in a Kendra, common infrastructure facilities (pucca Kendra) may be provided to the Kendra in the next phase in terms of building, warehouse, etc. for use of the samuh members
4-An illustrative list of major MFPs which may be covered under the initiative are tamarind, mahua flower, mahua seed, hill broom, chironjee, honey, sal seed, sal leaves, bamboo split, myrobalan, mango (amchur), aonla (churan/candy), seed lac, tez patta, cardamom, black pepper, turmeric, dry ginger, cinnamon, coffee, tea, sea buckthorn tea, etc. Apart from these, any other MFP with potential for value addition may be included.
Source : PIB