Atal Setu': J&K's first cable-stayed bridge opened
Atal Setu': J&K's first cable-stayed bridge opened
Date: December 26, 2015
yamuna rajeev gandhi sea link
North India's first cable-stayed bridge--the fourth of its kind in the country--that will provide close connectivity among the three states of Jammu and Kashmir, Himachal Pradesh and Punjab was on Thursday thrown open to traffic.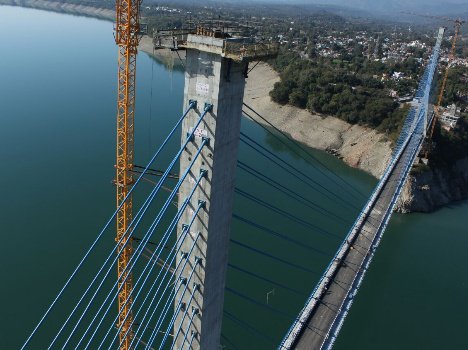 The 592 m-long bridge, built at a cost of Rs 200 crore by the Border Roads Organisation (BRO), will prove a pivotal communication link for three states — J&K, Punjab and Himachal Pradesh — as it connects Basohli town in J&K with Dunehra in Punjab, reducing the distance to Pathankote from 100 km to 45 km, and Dalhousie in Himachal Pradesh from 180 km to 45 km. Earlier, people of Basohli had to travel to Punjab or Himachal Pradesh via Lakhanpur, a distance of nearly 80 km.
Other three major cable-stayed bridges in the country are:
(i) Vidyasagar Setu – Over the Hoogly River in Kolkata (West Bengal).
(ii) Bandra-Worli Sea Link (Rajiv Gandhi Sea Link) – Mumbai (Maharashtra).
(iii) New Yamuna Bridge- Over Yamuna River in Allahabad (Uttar Pradeh).