Nuclear-capable Dhanush missile successfully test fired by the Strategic Forces Command
Nuclear-capable Dhanush missile successfully test fired by the Strategic Forces Command
Date: November 27, 2015
nuclear payload anti-ship missile
India successfully test fired one of its nuclear-capable ballistic missiles from a naval ship off the coast of Odisha. The trial was conducted from an undisclosed location, nearly 45 km from Puri and Paradip coast, Balasore, Bhubaneswar. The test was carried out by the Strategic Forces Command (SFC) of the Navy.
It is developed by the DRDO under its ambitious Integrated Guided Missile Development Programme (IGMDP). Missile was test-fired from INS Subhadra, while another warship provided all logistic support for the test.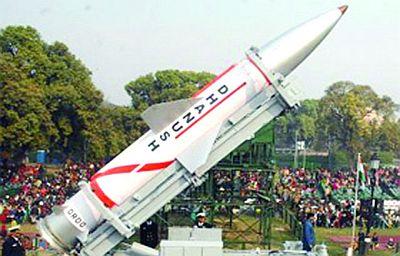 More About Dhanush:-
Dhanush missile is capable of carrying conventional as well as nuclear payload of 500 kg.
The missile can hit both land and sea-based targets under 350 km range.
It has already been inducted in the armed forces.
It was the 13th test of the anti-ship missile.
It is indigenously developed naval version of Prithvi short-range ballistic missile (SRBM)