MERS Virus
MERS Virus
Date: June 07, 2015
virus viral respiratory illness
Middle East Respiratory Syndrome (MERS):All About the Latest Deadly Viral Outbreak
South Korean health officials reported 14 more cases of the deadly Mers virus 06/06/15, bringing the total in the country's outbreak to 64, and said a fifth person infected with the virus had died.South Korea's outbreak of Middle East Respiratory Syndrome, first reported on 20 May, is the largest outside the Middle East, prompting public fear and questions about the government's initial response.
About MERS-
Middle East Respiratory Syndrome (MERS) is a viral respiratory illness that is new to humans. It was first reported in Saudi Arabia in 2012 and has since spread to several other countries, including the United States. Most people infected with MERS-CoV developed severe acute respiratory illness, including fever, cough, and shortness of breath. Many of them have died.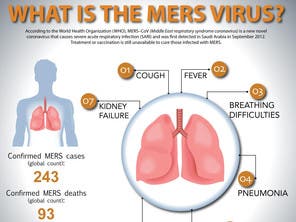 Health officials first reported the disease in Saudi Arabia in September 2012. Through retrospective investigations, health officials later identified that the first known cases of MERS occurred in Jordan in April 2012. So far, all cases of MERS have been linked to countries in and near the Arabian Peninsula.
MERS-CoV has spread from ill people to others through close contact, such as caring for or living with an infected person.
MERS can affect anyone. MERS patients have ranged in age from younger than 1 to 99 years old.
Prevention
Currently, there is no vaccine to prevent MERS-CoV infection. The U.S. National Institutes of Health is exploring the possibility of developing one.